Shaving Without Shaving Cream: Choosing An Alternative
Some men prefer using shaving cream more than any other lubricants.

However, there are times that they do run out of it, and they badly need to have a good shave. Shaving without shaving cream doesn't have to be a big deal if you know what other available alternatives you can replace it with. Not knowing any shaving cream substitute or shaving without lubricant makes you run a greater risk of damaging your skin in the form of redness and stubborn bumps. Not only that, because without a shaving cream alternative, your whiskers will be stiffer and more difficult to shave, and you will also run an increased chance of cutting yourself with your razor blade.

When you whip up a shaving cream before you shave, you know that taking this extra step in your routine is highly crucial.
Otherwise, you wouldn't bother making an effort to find the best one in the market, let alone building the best lather. Shaving cream is used to lubricate and gives an extra layer of moisture to the skin while it comes in contact with your razor blade. Shave without lather, and you might just regret it. But more likely, there is a shaving cream substitute that is available in your home. When you understand the role that shaving cream plays in every session, it should not be a problem to find a shaving cream alternative.
In this article, you will learn about:
When you understand the role that shaving cream plays in every session, it should not be a problem to find a shaving cream alternative.
— D'Rock, Naked Armor Founder
Shaving without shaving lather can make things worse for your skin. However, when going for a session with a shaving cream substitute, you also significantly compromise overall performance. Thus, it is crucial to be sure that other aspects of your shaving routine make up for the difference. Consider these vital preparation steps when using a shaving cream alternative.
Prepare your face with warm water.
A shaving cream substitute doesn't certainly guarantee to warm your skin all the time as a nice shaving cream would. This step of taking a warm shower is crucial because your beard will absorb the water at a warm temperature, making your facial hair softer and easier to cut. Also, the warmth relaxes facial muscles and makes shaving so much easier.
Cleanse your skin.
The use of cleanser or exfoliating before shaving will loosen dead skin cells and clear your pores. It will also help prevent the razor from becoming overloaded with dead skin cells, which lessens its effectiveness. Exfoliating before shaving can provide your razor with a much smoother surface to glide across for a smoother shave.
Strop your straight razor.
You're out of the shower, ready to shave. But your straight razor is not. Nothing could be worse than gliding a blunt blade across your skin and shaving without cream that would serve as a lubricant. It is essential to strop your straight razor before using it to achieve a close shave. Running it along the strop keeps the blade straight and aligned.
Shaving Cream Alternatives

A shaving cream alternative can be easily accessible. If you're looking for one, we recommend natural substitutes that work wonders on the skin and safe to apply simultaneously. However, keep in mind to use a moisturizing agent directly on the skin before gliding your razor to shave off your beard. Otherwise, you might suffer from the consequence of permanently damaged skin.
Honey
There is a great reason why honey is a favorite ingredient for some beauty products. It has the power to moisturize the skin from deep within. The enzymes present in honey help condition and soften your skin, and it also has anti-inflammatory properties that reduce irritation after shaving. Honey as a shaving cream alternative provides a barrier that protects your skin while preventing potential damage.
Pre-shave Oil
Pre-shave oil is a combination of natural oils which are all good for the skin. The goal is to nourish and lock moisture and create a lubricated surface that your razor can pass over quickly. The best shave oil contains hydrating oils like argan, jojoba, and aloe. It has a role in giving moisture to the skin and reducing post-shave irritation. Note, though, that pre-shave oil is not a permanent shaving cream substitute.
Coconut Oil
Coconut oil provides extensive benefits to your skin. It acts as a moisturizer, rejuvenator and addresses dry skin and irritations that commonly occur after shaving. If you are prone to developing such, coconut oil has antifungal and antibacterial properties that help prevent razor burn from happening again, making it one of the best shaving cream alternatives that you can choose.
Shea Butter
Shea butter can also be a great shaving cream substitute. The rich tree-nut oils in shea butter can soak into your skin, making a soft barrier while locking the moisture. There are plenty of skin products that contain shea butter as an ingredient. Although it is used traditionally as a moisturizing agent, it can be perfect for replacing your unavailable cream.
Natural Shaving Soap
Usually, shaving soap will last you a lot longer than shaving cream, making it more cost-effective, thus a great shaving cream alternative. The lather you make from the soap can be just as effective for the skin. The more delicate lather also better suits straight, single-blade razors, helping them glide across the skin as smooth as possible. Shaving soaps with natural ingredients permit a close shave without experiencing irritation.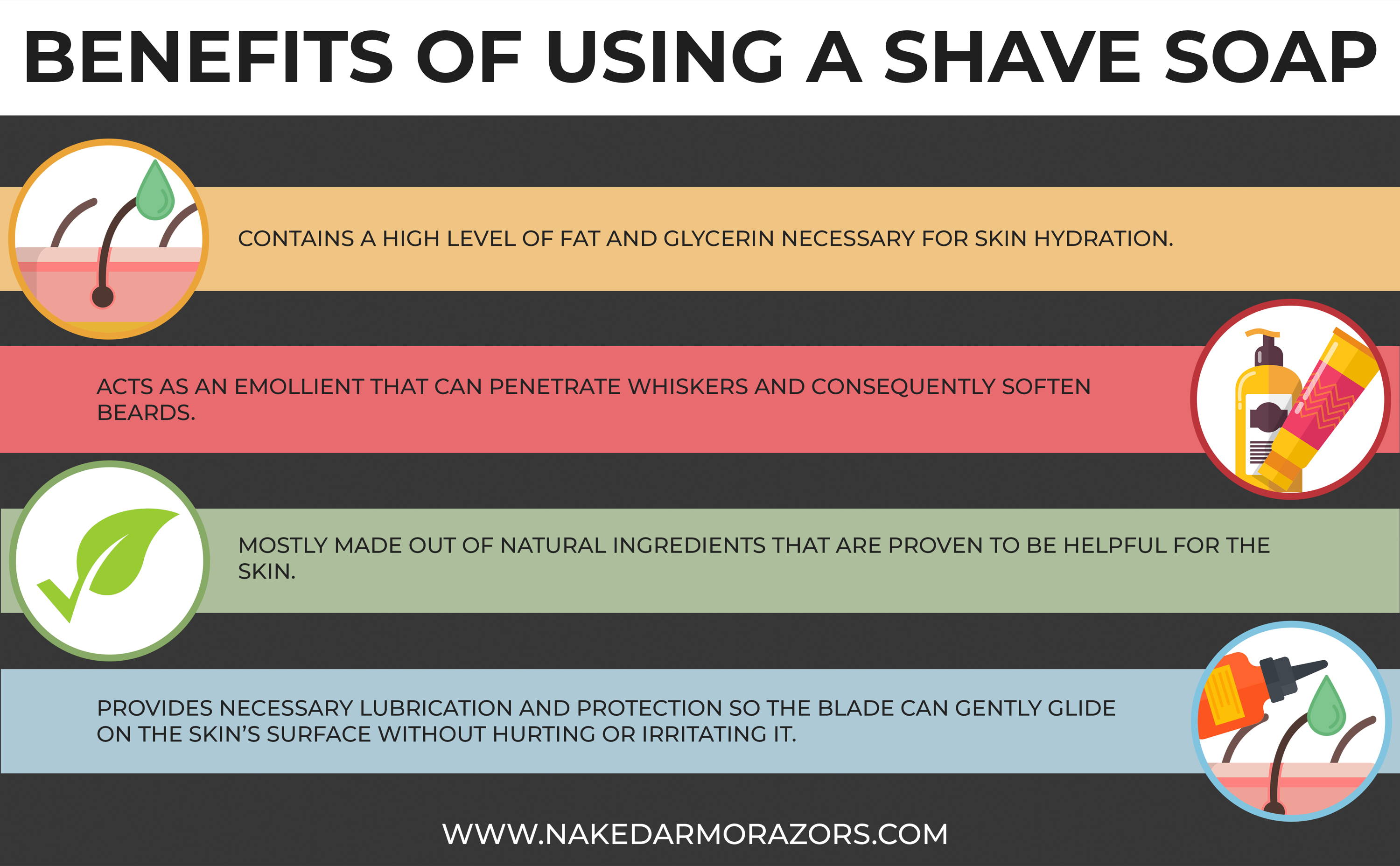 Benefits of Using a Shave Soap
Risks of Shaving Without Shaving Cream

Shaving without shaving cream to lubricate your skin for easy and smooth glide would end up the opposite of your expectation. Shaving without cream or not having any of the alternatives poses a risk of skin damage. Here are some side effects caused by the absence of lubrication on the skin.
Nicks and cuts
Without lather to apply on areas that you want to shave is a growing menace. It can start from nicks and cuts until it increases your risk for a shaving injury. Little to no lubrication due to the absence of lather means less protection on your skin when you shave.
Razor burn
Razor burn will show a red rash after shaving without using a lubricant such as shaving cream or shaving soap. It usually appears as red areas on the skin, and we can consider them a form of irritant contact dermatitis. Its symptoms may include burning, redness, itching, and stinging.
Razor bumps
If you don't prep your skin for the razor with a lubricant, you're more likely end up with shave irritation. Razor bumps are ingrown hairs that appear days after shaving. Ingrown hairs occur when the hair breaks off unevenly and curls back into the skin, resulting in a painful, acne-like bump.
Shaving without shaving cream instead ends up in negative consequences. For that, Naked Armor got you covered. Most of the recommended alternatives on the list are entirely safe to use before shaving and don't present any more risks. As they are natural, you can benefit from the same moisturizing and soothing factors from shaving creams. Just keep in mind that irritation can be possible whenever you try a new skincare product, especially if you possess sensitive skin. To avoid such a reaction, test the ingredient on a small patch of your skin before applying it to the area you want to shave, just to be sure.
We predominantly want to highlight that considering using a natural shaving soap can make a difference for your skin, specifically our Noah's Organic Shave Soap. It offers extra glide, protection, and lubrication to the skin from razor burn and irritation. With organic ingredients, it can also moisturize your skin at the same time. Compared to shaving cream, high-quality shaving soap can last up to six months of daily use, sometimes even longer. So, you can get a lot of nice, creamy lather for your money. To learn more, you can read our article that guides you on which better option to use for wet shaving.
Naked Armor's Noah's Organic Shave Soap is made of all-natural ingredients and is very essential to prevent skin stress brought by shaving. The rich soapy lather will improve your the daily shaving routine.
Naked Armor is passionate about providing you the best products with promising results. Whether you have normal skin or a sensitive one, you will find all the safest and good-quality items you need to develop the best shaving routine in our wet shaving products selection. Treat yourself to luxurious shaving sessions and have the best beard grooming experience ever.
Check out our site for incredible and high-quality shaving products.
---