How to Make Your Beard Awesome: 7 Tips on Using a Naked Armor Beard Grooming Kit
A year ago, we wrote a post on how many veterans tend to grow out their beards after serving duty in the armed forces.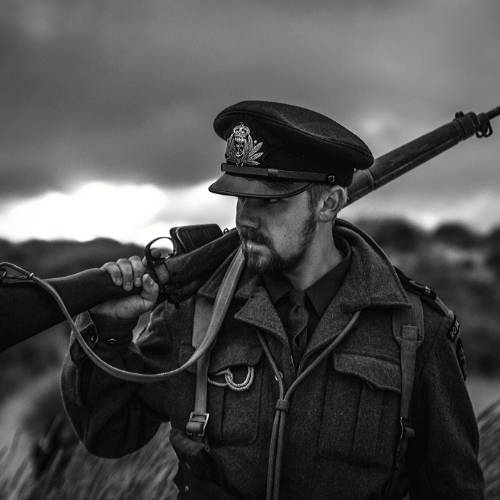 We found out that while there's a significant portion of veterans who grow out beards in order to mask their PTSD, most veterans just grow them out because they can.

Call it a reaction to long periods of routine military shaving. While shaving, in general, is easy and comfortable with the proper tools and products, it can be a painful inconvenience for military men with curly hair since they are prone to razor bumps.

So it's understandable that upon their release from active duty, a shaving routine is one of those habits that's quickly discarded by our veterans.
This Veteran's Day, we totally salute their decision to grow out their beards to mark their retirement from military service. But just because one decides to let it grow free doesn't mean it's an excuse to let it grow out in wild abandon. Even in beards, one has to have standards. And a sloppy beard doesn't cut it.

This being the Decade of the Beard, there are more and more shaving products available to make your beard look good. And while the variety of choices might make it difficult for you to choose, there are now beard grooming kits which contain everything you need to get your beard looking proud and movie-star worthy.
STEP 1. Prep Your Beard with Our Hemp & Argan Beard Oil
One of the secrets to getting a comfortable and easy shave is to prep your beard very well before wet shaving. And that means taking a warm shower to clean and make your hair ready for shaving.

Warm water makes hairs stand up which makes shaving easier. It relaxes the skin, giving it a looser feel. This will prevent you from shaving too close as you would with taut skin. It also opens up your pores and helps keep them clean.

After your shower, apply some beard oil. It hydrates the skin and tames unruly beard hair. Putting it on after showering will make it easier for the skin to absorb the oil because the hair follicles and pores are still open.

Rub the beard oil into your hand, then massage it throughout your beard. Naked Armor's special blend of beard oil contains hemp and argan. Hemp is a good moisturizer for all skin types because it doesn't clog the pores. Argan, meanwhile, has anti-aging effects and heals most skin infections.

Even better, Naked Armor's Beard oil also contains Jojoba oil and Vitamin E essential oils which help nourish the skin.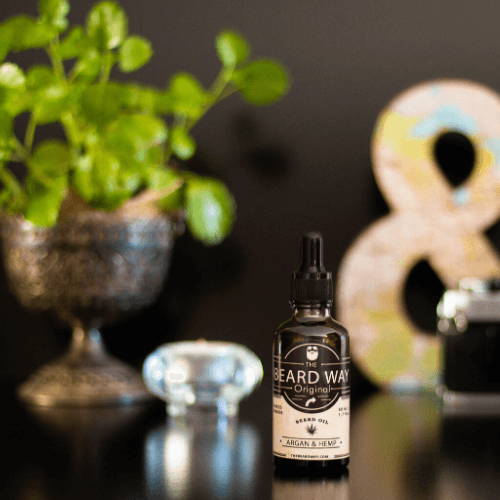 STEP 2. Use Our Bamboo Beard Comb to Keep Unruly Fcial Whiskers in Line
If you've been growing out your beard for nearly a year now, then chances are that you might have a bit of difficulty in ensuring that the Hemp & Argan Beard Oil gets into every area of your beard. To help you with this, use our Bamboo Comb to make sure that the oil coats every hair and moisturizes your skin.

It has a thick fine tooth finish that can get through any hair or beard, eliminating snagging or hair pulling unlike other cheaply made plastic combs. Best of all, it's also made from sustainable bamboo which reduces the static that keeps your hair unruly. It's very eco-friendly, too.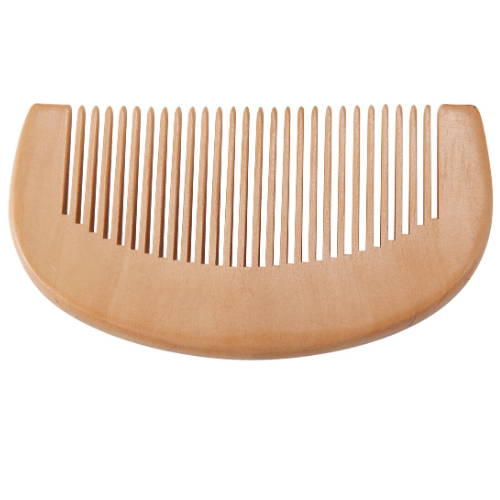 STEP 3. Trim Your Thick Facial Hair with Our Barber Grade Stainless Steel Scissors
Not everyone can rock a full, thick beard. Depending on your facial structure and the texture of your facial hair, it can make you look like a douchebag. Right now, the popular beard styles tend to belong to the Box Beard Type Category. These styles are perfect for anyone because they are compatible with any face shape as long as it's well groomed.

But before one proceeds to shaping the beard style, one has to trim the excess hair first. This is particularly important especially for short beard styles. And to do this properly, you need to have dependable, high-quality barber scissors.

The Naked Armor barber grade scissors are made from stainless steel and are durable and efficient in thinning excess facial hair. They're also the right size to make trimming easier for you.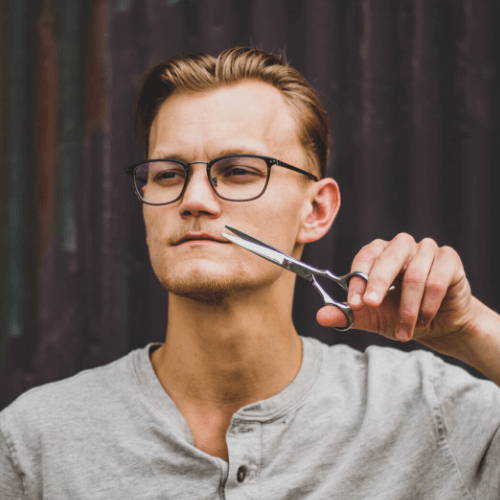 STEP 4. Sculpt Your Beard Lines with Our Shavette Straight Razor
Using a shavette is the next best thing to using a traditional straight razor. Not only because it offers the same versatility and efficiency of a straight razor, but also because one doesn't need to strop and hone the blade regularly in order to get a close shave.

A shavette's blade is replaceable and our Naked Armor Shavette blades are made from quality steel so it will take you a long while until you need to replace it.

Use this to shave right up to your beard line without dragging and catching any hair—the perfect way to expressively sculpt your face.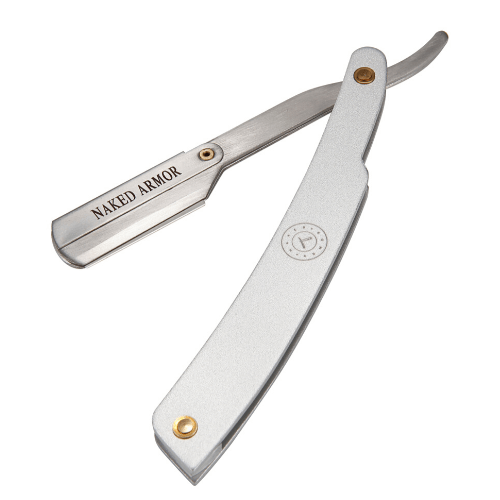 STEP 5. Get a Perfect Symmetrical Trim Line with Our Style Template Comb Tool
Use this grooming guide tool with our shavette razor to help achieve a professional-level accurate trim. The two sized teeth comb design ensures that any beard size can be tamed and styled effortlessly. It can also help apply the beard oil through the hair.

This comb tool can be used to trim your neckline, cheek line, sideburns, mustache, jawline, goatee, and more. It even features different styles—curve cut or step cut for your cheeks and jawline.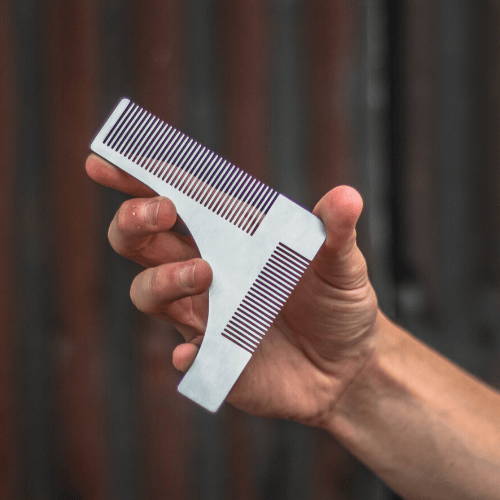 STEP 6. Finish Your Grooming Routine with Our Bomb Beard Butter
Once you've finished trimming or shaving and applying some aftershave, rub your beard with our Bomb Beard Butter.

Our beard balm butter will condition, soften, and moisturize your beard and skin. We developed this in collaboration with a professional esthetician who specializes in treating men's beards.

The Naked Armor beard balm leave-in conditioner is the perfect formula for keeping your facial hair and skin hydrated, moisturized, silky soft, healthy, and groomed during a long day. It's also the best way to style a beard because it adds volume to the facial hair while eliminating itching & beardruff.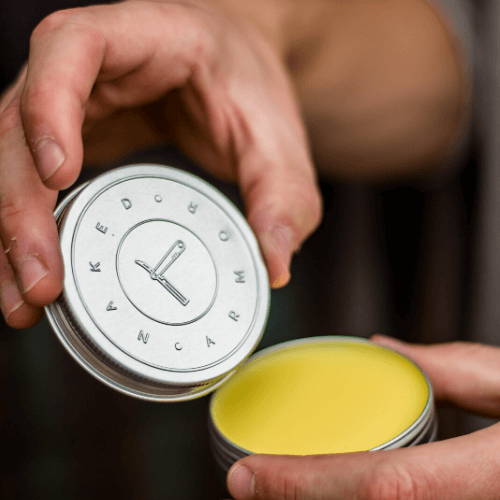 STEP 7. Finally, Use Our Bamboo Beard Brush to Style Your Beard

Using a bamboo beard brush to apply our Butter Beard Balm helps distribute it more on the facial hair, conditioning it and improving the texture. It also allows you to shape and style your beard more efficiently.

The act of brushing is also beneficial for beards. It increases the blood flow to the hair follicles. More blood flow promotes healthy, and sometimes even faster growth.

In fact, even beard pros recommend brushing beards daily. It helps cleans up any debris that's caught in the beard (like your morning oatmeal, for instance). It can also help unclog pores, reducing ingrown hairs.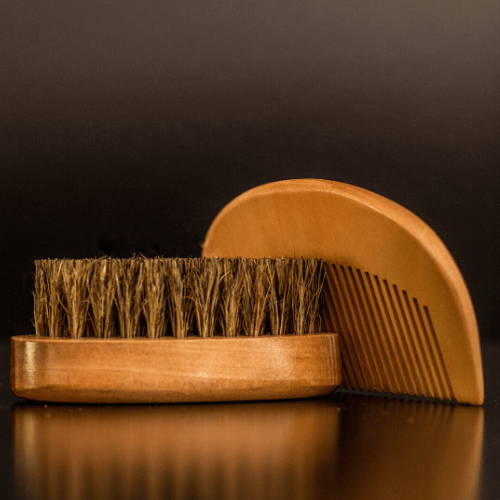 So if you want to get an awesome beard just in time to commemorate Veteran's Day this week, we recommend you pick out our Grizzly Bear'd Grooming Kit. It's one of our best-selling items on our site.

Who says you can't look smartly presentable even when you're no longer clean-shaven and in uniform. With Naked Armor at your side, you definitely can!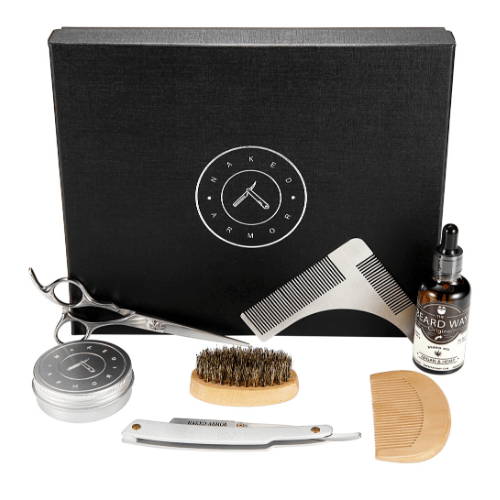 ---