Badger Hair Brush vs Synthetic Hair Brush
There is no question as to why a Straight Razor Shave Is Better; there are many reasons, and I know you are a fan of a wet shave, or you wouldn't be here.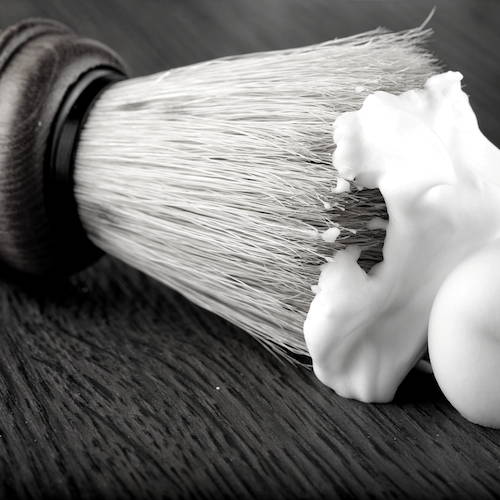 If you like to shave wet, then my guess is that you have used a shaving razor and a shaving brush together.
Shaving brushes are just good for a number of various reasons, but the benefits are only as good if you can get a proper shaving brush.
With so many brushes to choose from, the challenge is usually knowing which is the right one for you.
Basically, the debate is usually around whether the synthetic types are better than the traditional badger brushes.
So, we are going to explore both types and learn what advantages the synthetic brush has over a badger hair brush.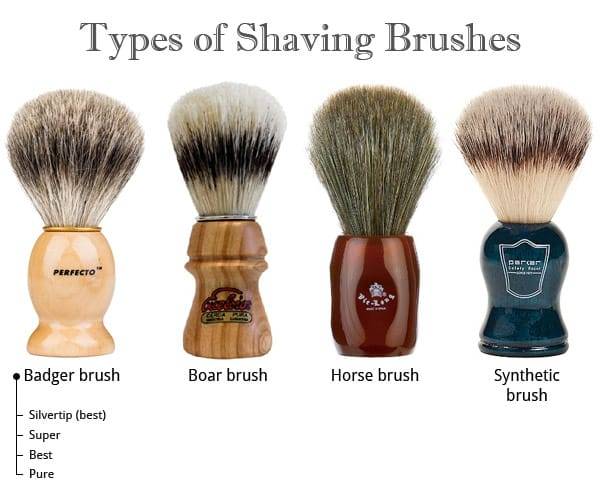 A badger hair brush is the poster child of traditional shaving tools.
Made from the belly hair of the badger, a badger brush's quality is determined by its bristle load. The most basic are those which come from the underbelly of a badger. The hair is fixed into a knot and installed into a handle by a machine. The hair from the belly is coarser, and so it is often trimmed which results in sharp prickly tips.
The better quality badger brushes are those made from the finer pliable hairs from 20- 25% of the badger's body. The highest quality is the silvertip badger brush, which is basically highly graded pure hair bleached on the tips so that it resembles a silvertip.
If a badger brush is installed by hand, it becomes more expensive. More so, if their handles use exotic materials like ivory, gold, porcelain, tortoiseshell or crystal.
Synthetic shaving brushes
Synthetic shaving brushes are made from soft nylon bristles. When compared to badger brushes, synthetic bristles were more than capable in effectively preparing the beard for shaving. Which was probably a relief for animal conservationists, since there was a risk that the badger population will become threatened if the demand for badger fur had continued.
Similar to a badger brush, a synthetic shaving brush can quickly create a rich lather, even with a small amount of shaving soap or cream, because they don't absorb too much moisture.
Wet shaving gives you better results and takes care of your skin than dry shaving. The primary goal of using a shaving brush is simple; to ensure your face is well lathered in preparation for the shave.
— Derek, Naked Armor Founder
So Which Shaving Brush Is The Best?
The only advantage that badger hair brushes have is that the bristles are tougher. This lets you use the brush as an exfoliating brush because its bristles can sweep the area free of dead skin cells, leaving your skin clean and moisturized in preparation for shaving.
On the other hand, there are various benefits that synthetic brushes have over badger brushes. These are:
● They protect the badger population from being threatened with extinction.
Synthetic brushes are a great guilt-free alternative to badger brushes.The more people use a synthetic brush, the less demand for badger brushes, allowing local populations of badgers to recover and thrive again.
● They're fast drying.
Because they are made of synthetic nylon, they are not very absorbent. If you are always traveling, and you need to shave regularly during your trips, then this is the kind of brush for you.
You can easily pack this without worrying about any dampness in your luggage.
● They are economical.
Synthetic brushes are the closest you can get to the feel of a natural shaving hair brush without breaking the bank. Why spend $20 more for a badger brush when a synthetic brush can produce a lather just as well?
● They easily produce a luxurious lather.
Since they are non-absorbent, it takes minimal water and soap for it to start lathering. The quality of lather that a synthetic can produce is very fine and rich, giving that smooth and easy feel while shaving.
● They last longer.
Synthetic brushes do very well in just about any environment with less care. A badger brush, meanwhile, will easily give way to damage especially the silver tip ones.
If you have ever left a badger brush standing upright after use, you will notice that its bristles will quickly fray, or develop mold or even, lose its shape.
With a synthetic, this is not a big issue, although gentleman's etiquette demands that you store it in an upside down position for even quicker drying.
● It works on all skin types.
The nylon bristles are crafted to be soft and while this may feel thinner and bouncier during lathering, it's designed to be that way so that it won't be abrasive to the skin.
This does not mean that it can't exfoliate as well as a badger brush. In fact, for those with sensitive skin, a synthetic shaving brush is recommended because its soft bristles won't inflame the skin.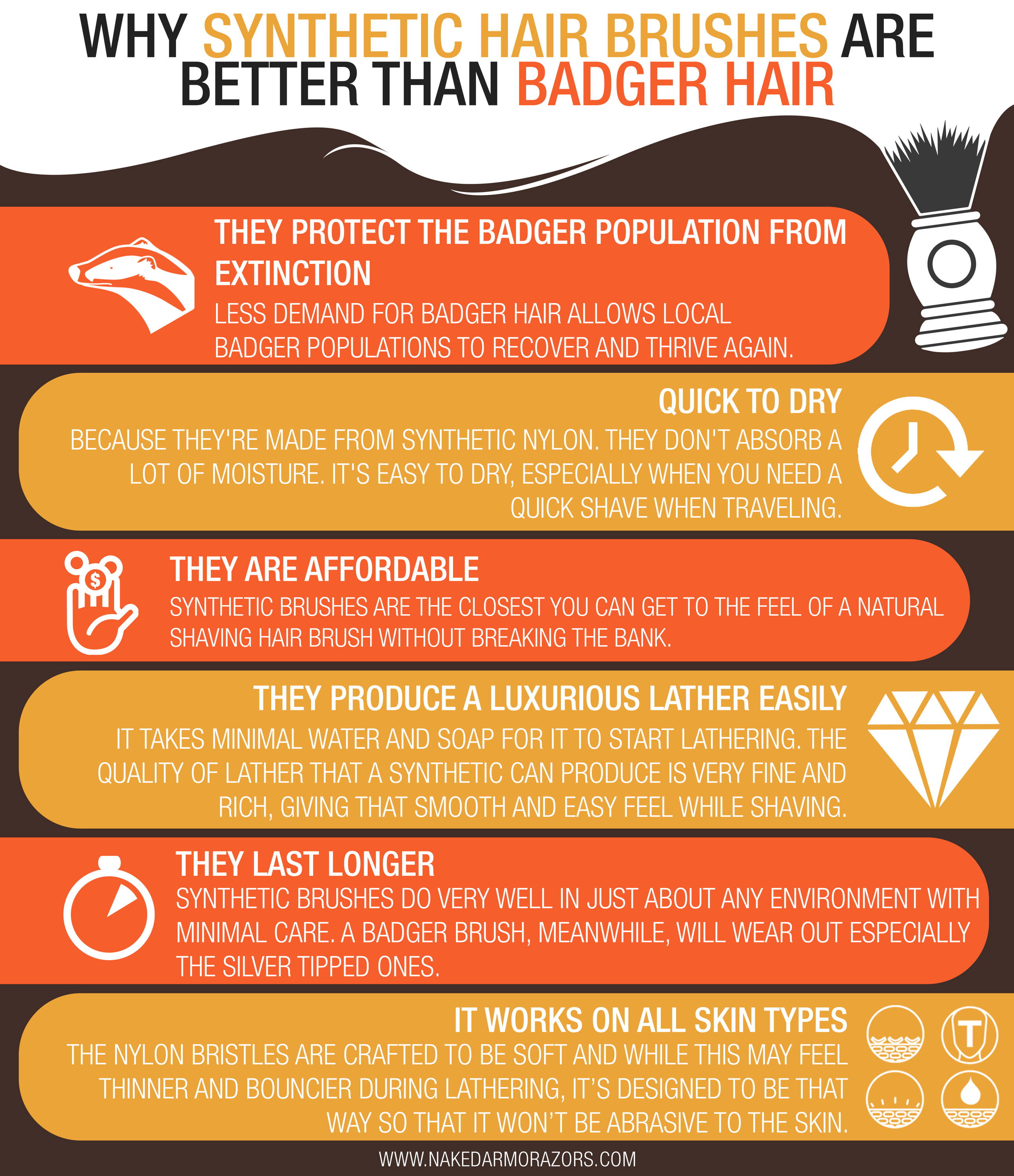 Are There Any Benefits Of Using A Shaving Brush?
Maybe you have been using an electric or a cartridge razor, and you are wondering what the fuss is about using shaving brushes.
Wet shaving gives you better results and takes care of your skin than dry shaving.
The primary goal of using a shaving brush is simple; to ensure your face is well lathered in preparation for the shave.
So why does one need a brush for that? Here are the reasons why:
1. Consistent Lather
A shaving brush will ensure that you get a much more consistent lather faster and more evenly than just using your hands.
2. You Get Thicker Lather
Thicker lather means your skin follicles will be more hydrated and lubricated, allowing the razor to shave your facial hair more smoothly and easily.
3. Saves You Money
A good shave brush will lather easily with less soap or cream. This allows you to save money in the long run since you won't be buying soap and cream that much often.
4. Exfoliation
As a rule, men don't think they need to exfoliate. And so they don't include exfoliation in their daily routine.
A shaving brush can then have a two-fold purpose: to lather cream and to exfoliate. This is why men can get a clean and smooth shave. The brush removes dirt and dead skin from the face making it look younger and cleaner.
To sum it up, using a shaving brush will help you achieve your goal of having a clean and smooth shave. Using a synthetic shaving brush, however, will give you a more luxurious experience en route to achieving that ideal clean and baby-smooth mug.
Using a synthetic shaving brush will always have a positive impact on your shaving experience.
Check out Naked Armor's shaving brushes and give your mug a luxurious experience by getting one of our finely crafted, animal-cruelty free shaving brushes.
For every purchase of a Naked Armor product, we donate +1% of the proceeds to either one of two wildlife conservation groups that we partner with. We'll even let you choose which one. Now, that is something we're sure your mother or your wife will approve.
Click Add To Cart below.
---
---
3 comments
---
---