Honoring Vets on Memorial Day
Memorial Day is an occasion for remembering and honoring our uniformed personnel who died in the service of our country.
In the old days, rural America marked this event by cleaning cemeteries and decorating the graves of fallen soldiers. It was also called Decoration Day because the usual ceremonies on this day centered on the decoration of soldiers' graves nationwide.

It was only after World War I, that the occasion expanded to include honoring those who have died in all American wars. In 1971, Memorial Day became a national holiday by an act of Congress and that's why we now celebrate it on the last month of May.
But while Memorial Day is basically for those veterans who have sacrificed their lives, it's also a nice way to recognize those who have served and continued to do so in service of our country. As the former governor of Michigan, Jennifer M. Granholm, once said, "Ceremonies are important. But our gratitude has to be more than visits to the troops, and once-a-year Memorial Day ceremonies. We honor the dead best by treating the living well."

And so we shouldn't also forget honoring our living veterans on Memorial Day. And since Memorial Day weekend also happens to be a great time for sales, how about giving your favorite veteran a gift to show how much you appreciate their service.
Solomon Straight Razor Kit
Named after King Solomon, this straight razor is one of our best selling products here at Naked Armor. The blade is made from Japanese stainless steel which draws upon its revered and age-old tradition of blade-making. That makes it very sharp and durable.

It also has a unique design: it's a combination of the full hollow and half hollow designs. Now for those who are not technically-astute, this just means that the Solomon Straight Razor is a versatile blade. It can easily shave off thin or coarse hair and can be used by a beginner or an expert.

It's also made more luxurious because of the quality of its handles. It's made from a species of sandalwood which is traditionally known by locals as algum. According to biblical legend, it's one of the timbers used to build the Temple of Solomon.

The sandalwood itself holds therapeutic benefits. It secretes an essential oil even after it has been processed to become a handle. This essential oil has anti-microbial and anti-inflammatory properties. Any veteran using a sandalwood handle will experience the added benefits of its wood oil everytime he shaves.
Grizzly Bear'd Grooming Kit
If your veteran has a full beard that he'd like to maintain and groom rather than shave, then he will love our Grizzly Bear'd Grooming Kit.

This kit has everything he needs to groom and style his beard. It has a special trifecta of beard oil made from argan, hemp and jojoba essential oils. This nourishes the beard while keeping it smooth and clean.

To help you style it, we've included a beard style template, a sustainable bamboo brush & comb and our organically produced balm butter which hydrates the skin and hair and keeps off beard dandruff and itching.

Finally, to make it a convenient shaving experience for you, we've included a stainless steel shavette razor with an extra blade. A shavette works and gives a close shave like a straight razor except that you don't need to spend time honing and stropping the blade. That's because it has a replaceable blade. Once it gets dull, just simply swap in a new blade and you're ready to shave anew!

With the Grizzly Bear'd Shaving Kit, military shaving just got even quicker, for sure!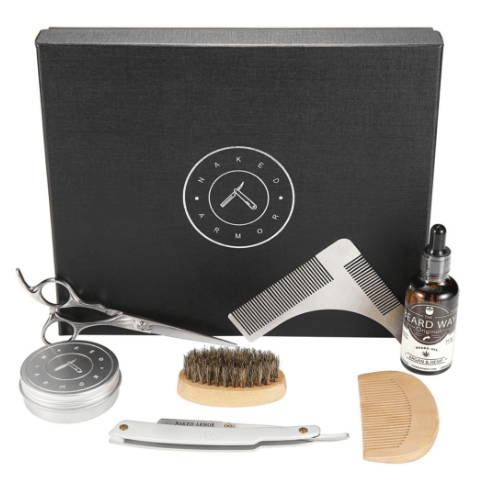 For the itinerant veteran, this travel kit will surely make his day. That's because it's lightweight and handy without sacrificing its functionality.

Both blade and handle are made from lightweight Japanese stainless steel. It's crafted with the same Naked Armor signature style that makes it versatile for all types of hair.

It also comes with a strop and our very own patent-pending collapsible brush. Simply slide the brush into the handle base after use in order to protect the bristles.

Finally, all of these come in a beautiful black leather case that's simply made for travel. It's elegant and a space saver; your veteran won't need another dopp kit to store it.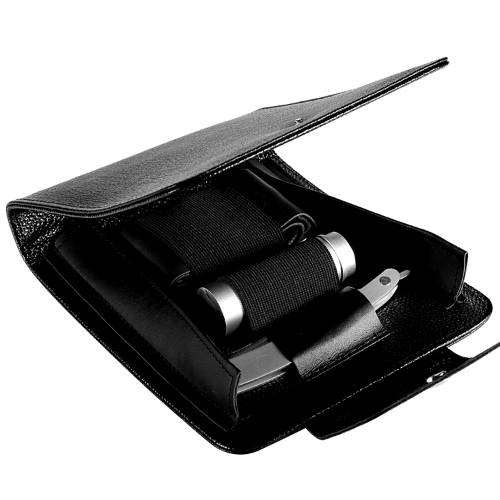 Savanna Scuttle Mug Wet Shaving Kit
If your favorite veteran has retired from active duty, then he will have more time for luxury shaving. And nothing will make shaving more luxurious than with our Savanna Scuttle Mug Wet Shaving Kit.

The Savanna Scuttle Mug keeps your veteran's shaving lather warm so that he can enjoy more minutes of wet shaving. Our ceramic mug is designed with vertical bars to keep the brush from sliding out of the mug and horizontal ridges to catch the soap between the brush bristles, creating a thicker lather.

The kit also includes our very own organic shaving soap and a badger friendly shave brush that can easily whip up a thick lather even with just a little bit of water. Forget about military shaving; with this kit, your veteran can enjoy a luxurious shave anytime he wants because he deserves it.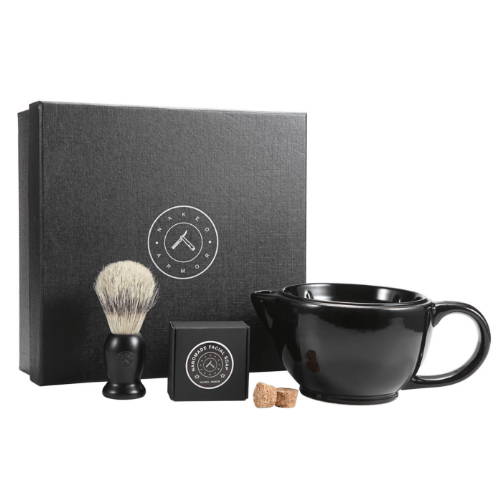 American Razor Powdered Steel
Now if you're looking for something that spells patriotism, then our American Razor Powdered Steel should catch your fancy.

Dressed in the colors of our American flag, this cartridge razor has a no-slip handle that allows a firm grip on the razor even when one is in the shower.

The five-blade cartridge head has a contour & pivot technology which allows the blades to respond to the contours of your face, shaving off every single bit of hair. It also has a lubrication strip on its head in order to keep it comfortable while shaving.

No drops, no cuts or wasted time. It's a perfect razor to use for a veteran who is still on active duty and needs a razor for his daily military shave.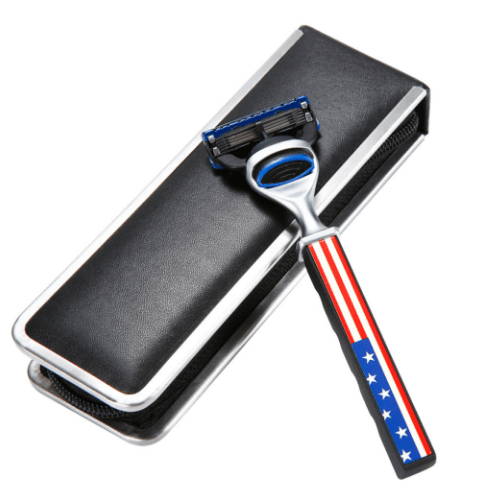 ---