Merlin Travel Kit Review - Everything A Man Needs To Straight Razor Shave While Traveling
Those of you who know me know I wouldn't review something until giving it a thorough testing. Such is the case with the Bela Travel Kit from Naked Armor.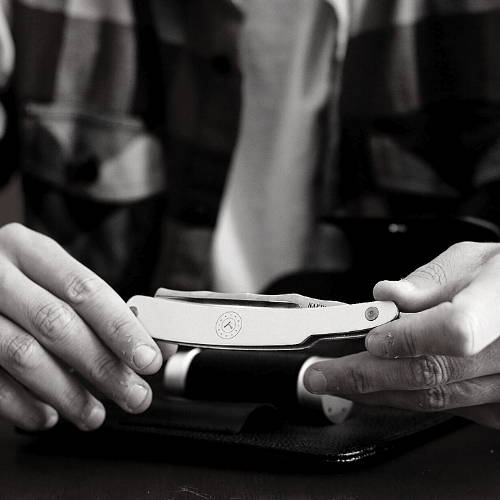 First off, it is important I think to note, for those who might otherwise be surprised to learn, you cannot take this in a carry-on on an airplane.
You can, however, travel with a straight razor along in a coach, motorcycle, boat, motorcar or checked luggage for an airplane.
It will help you keep well-groomed at your destination, whether for a wedding or even camping in the field.
I first tested the kit on a week-long camp-out in August in the Adirondacks, near Lake Tupper in Upstate New York.
It worked fine in the middle of the week when I decided I did not want to return home looking like I'd been growing my beard in the summer. I had hot running water to use, and a mirror over a sink, in the men's latrine in the Boy Scout camp where I was camping with other Scout leaders.
The razor is the same Japanese steel as the biblical wood handled version, but has stainless steel "scales" (side pieces) instead of wood. This means you should always be sure the scales are dry, or, at the very least, not soapy or slippery when using it. And don't shave outdoors in a lightning storm.
If you do plan to shave outside, as I have enjoyed in the past and the reason why I searched all over Spain for just the right antique basin, pitcher and 'shave stand' many years ago, you might want to consider adding a Savannah Scuttle or a Silverback Shave Bowl to your luggage, as with a minimum of hot water, you can have a fine, rich, warm lather to last your entire shave without having to try and shave near the water supply pipe.
The travel brush is effective, once soaked, and packs nicely in its own handle. It is lightweight and quite similar to a travel brush my father used to carry on his expeditions to far-flung regions of Asia.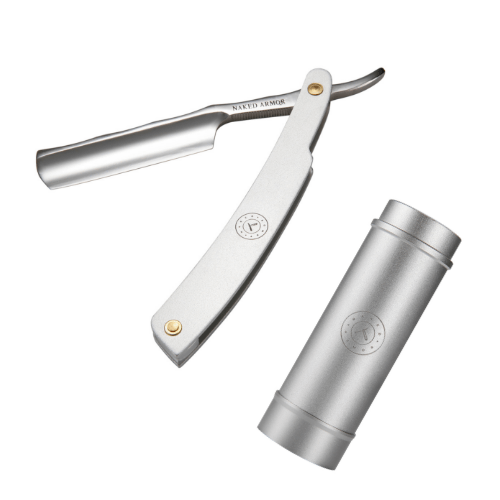 The kit is perfect for the Victorian gentleman wishing to "freshen up" after a long coach, elephant or camel ride, or even a short rickshaw, pedicab or scooter taxi ride.
— D'Rock, Naked Armor Founder
The Bela razor is superb, cuts well and fast and needs very little pressure.
Meaning it is less likely to cut your face than a "safety" razor when used correctly, and when properly stropped. In fact, the entire kit would make a fine gift for a straight-razor "beginner."
In addition to the kit, I received, from Naked Armor, a Blue Eel Strop to use and review along with the Bela Travel Kit. Naked Armor has since seen the wisdom of providing a strop in its Travel Kit.
The linen/canvas and leather panels of the strop, and the hook and handles for holding both taught, worked well. I am used to a slightly stiffer leather, like bridle or saddle leather, and a handle that already has both panels together, but it is easy enough to adapt to for anyone, especially anyone new to stropping, for whom this is the only strop they've ever owned.
The strop did not include any stropping paste/dressing, which usually helps sharpen and remove any rough "wire" or metal on the razor. But, being brand new, it was, as noted, effective. I used it on all my straight razors, in fact, as an experiment. And it worked easily as well as my longer, older, stiffer strop from 1988. The edge the Blue Eel Strop finished on my razors was a bit thinner than my old strop, but no less sharp.
The kit is perfect for the Victorian gentleman wishing to "freshen up" after a long coach, elephant or camel ride, or even a short rickshaw, pedicab or scooter taxi ride.
The last thing I would suggest for a slight upgrade to the kit is inclusion of a small, perhaps magnifying mirror. The addition of a mirror, or even just a pocket/holder for one, would, in my opinion, make the entire kit so compact and reliable, it would be of great benefit to any who travel to remote areas or unreliable toilet situations, as in some distant lands.
Overall, I rate the Bela Travel Kit as "Superb," and the Blue Eel Strop as "Excellent."
My only regret is that I haven't booked passage on the Cunard Transatlantic voyage of the Queen Mary II to give the kit an even more thorough testing.
---