The Best Budget Straight Razor #1 Pick
People interact with you differently depending on what they see on your face.
Of course, we cannot deny that some people look smart with their beards.
If you are yearning to look professional and be taken seriously by your mates, consider shaving your hair.
By now you might have already realized that people interact with you differently depending on what they see on your face.
Shaving your beard isn't really hard. In most cases, you only need to get the right razor blade and your shaving experience will be smooth and easy.
One of the straight razor blades that you should consider trying out is the Solomon Straight Razor. Before you buy it, take your time to go through this comprehensive review.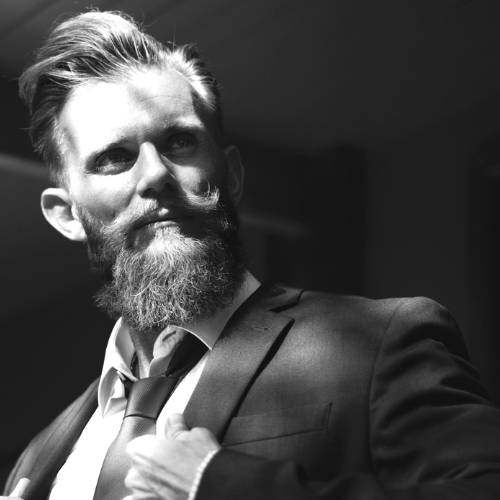 There are many things that you should look at when buying a straight razor. One of them is the handle. You want a razor that is easy to handle. Fortunately, the handle of this razor is made of algum wood.
According to history, this is the same type of wood, along with cedar and pine, that were used to construct Solomon's temple.
The wood was also used to craft other items such as musical instruments. In other words, the razor's handle is a valuable piece of wood that has a strong sense of history and biblical importance.
This is a high quality piece of wood that elevates the Solomon Razor into luxury.
Apart from being smooth, the wood is also elegantly designed.
Japanese products have a reputation for having the highest quality standards. Have you ever seen a substandard product from this Asian country? Most likely, the answer is no.
Similary, this razor has a Japanese Steel blade that is made of high quality stainless steel, with a hardness rating of 65 HRC. What does this mean?
First, it is unbreakable, meaning that you can shave off your hair without worrying about its condition. It won't break or even bend. In fact, this blade is durable in that it can be used as a defensive weapon in case you are attacked.
As mentioned earlier, the manufacturer uses the Japanese steel because Japan is known for manufacturing the best steel.
Think of the American Samurai warrior and you will understand why the Japanese stainless steel remains the number one choice for making the blades.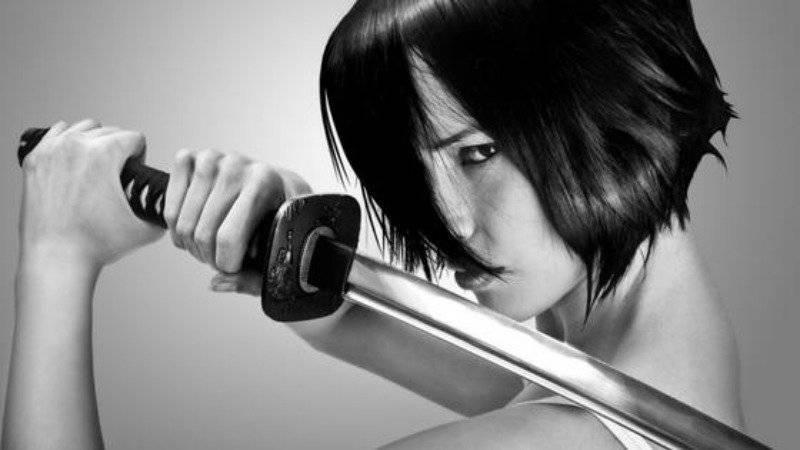 It can take you a lot of time and effort to find a shaving razor that balances all the key attributes of a perfect blade.
The Solomon Straight Razor blends sharpness and quality so that you can have a single product that can meet all your expectations.
The razor is topped and bottomed with 115-grain two-sided gold copper heads to give you the perfect equilibrium as you shave. This is one critical feature that you won't get in most shaving razors.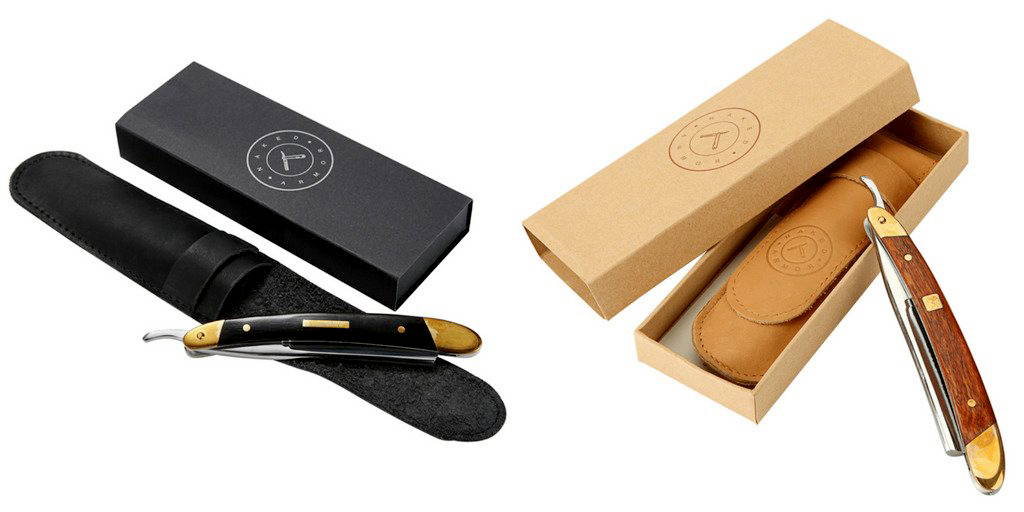 Most of us are used to mishandling the straight razors mainly because of poor packaging. If the razor is packaged recklessly, you may not be able to handle it appropriately.
The manufacturers of these razors know what the users want, and that is why they designed an elegant and sturdy box for the shaving kit.
You will undoubtedly be amazed by the razor's packaging. In addition to the box casing, the razor comes with its own leather case to make it easier for you to bring it on your travels. If you intend to give it to someone as a gift, you won't need any other form of wrapping.
You deserve to look good, whether you are driven by the need to impress the lady or just for your own good. Naked Armor razors are capable of giving your face the best transformation to make you look good.
— D'Rock, Naked Armor Founder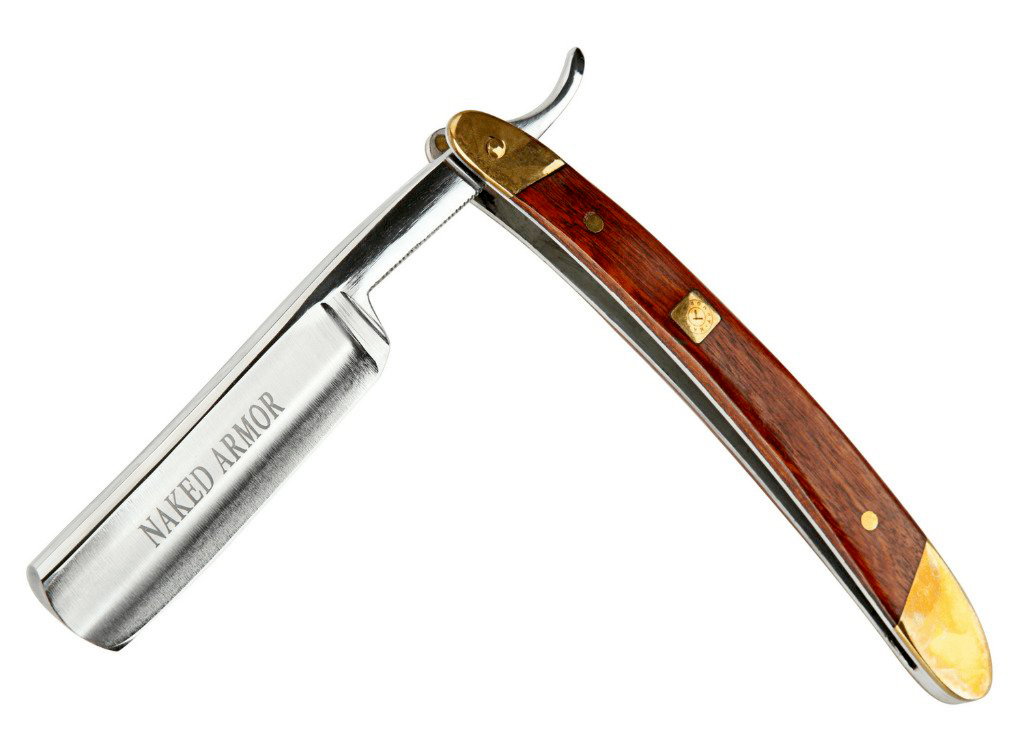 The blade of this razor is very sharp and ready to shave. You can begin using the blade right after unboxing it.
The package comes with an oil coating, which you can use to protect the blade while in transit. It helps to preserve the sharpness of the blade.
Since it is advisable that you hit your razor with a strop before using it, our shaving kits also come with its own elegant strop.
The blade of the Solomon Straight Razor is quite broad, which makes it easier to handle, especially by the newbies. You will be in a good position to hold it at a perfect angle.
When it comes to the design, this razor is a hybrid of the best features. Its blade falls in between half hollow and full hollow to meet the various needs of wet shaving enthusiasts.
The Solomon Straight Razor is 7/8 wide, and its tapered end measures 5/8. The total length of the razor is 17.7cm, and the blade measures 7.5cm. These dimensions ensure that the razor performs well and provides a comfortable and easy shaving experience.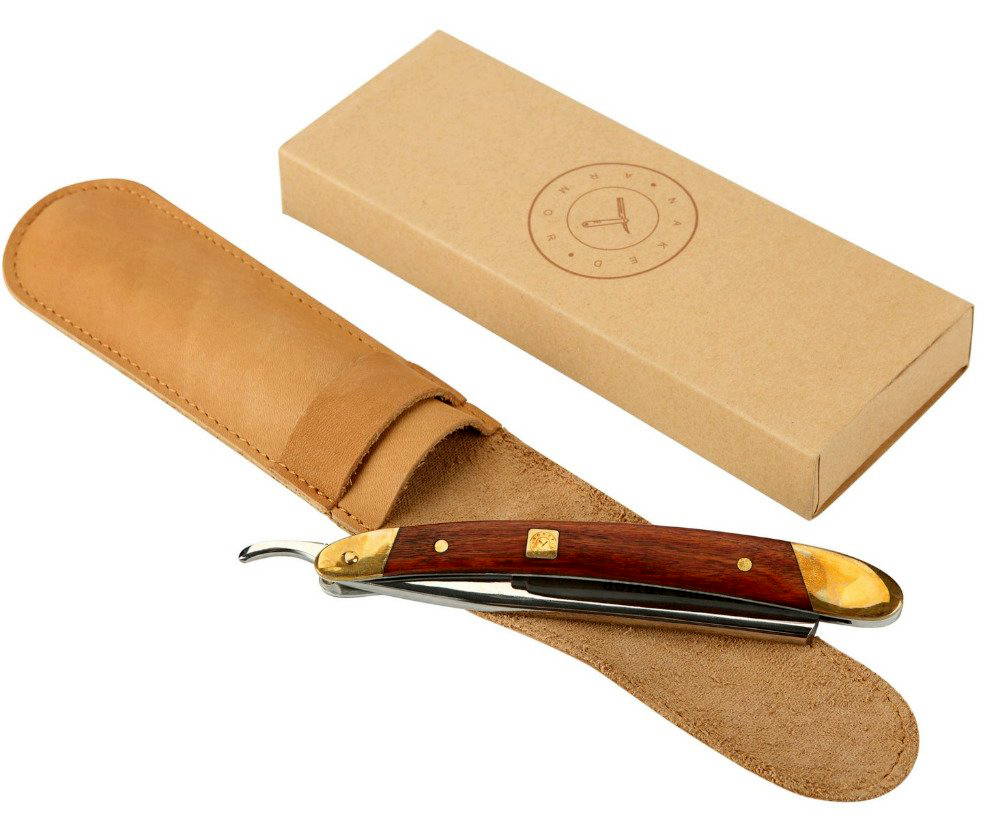 Solomon Straight Razor is a product that has been designed and manufactured with precision.
The manufacturer is 100 percent sure that you will be impressed with the product and that is why they are offering a lifetime warranty and money back guarantee.
If you are not happy with some features of the razor, you are free to return it and ask for a full refund.
You deserve to look good, whether you are driven by the need to impress the lady or just for your own good. Naked Armor razors are capable of giving your face the best transformation to make you look good.
By purchasing the blade, you will also be making some contribution towards the charity as 1% of every amount that you put on the razor goes towards the Save The Badger fund.
The razor has also received lots of positive reviews and many users expressing their satisfaction regarding its effectiveness.
Let's listen to MMA Fighter Nick as he reviews the blade:
Getting an ideal razor that will meet your shaving needs is never easy. You need to look at several factors before deciding on the best type to get. Solomon Straight Razor has tried to combine all the best features of an ideal straight razor into one product.
Get yours now. Click Add To Cart below.
---
---