Top 10 Essential Oils For Razor Burn
Top 10 Essential Oils For Razor Burn
There is nothing like using the best essential oil for razor burn that will make your shaving experience more comfortable and luxurious.
Essential oils are nature's bounty. They are natural oil compounds extracted from plants that capture the plant's scent and flavor, or "essence."
The perfume industry uses essential oils to manufacture scents. But there are other uses for essential oils that do not involve producing aromas. That is because essential oils also contain nutrients that can be beneficial for the skin.
These nutrients make a great addition to wet shaving products, which is why a lot of companies incorporate these oils into their ingredient mix. There are 90 types of essential oils out there, but not all are best for your shaving. That is why we will show you the top essential oils you need to use for shaving.
Top 10 Essential Oils for Razor Burn (in no particular order):
You will also know how to:
We bet that you noticed that most of the toiletries and cleaning products have a refreshing mint scent. There is just something about this aroma that reminds us of cleanliness and hygiene.
One of the essential oils that can give you a crisp mint fragrance is peppermint oil. If you want to smell fresh, then add this to any of the products you use in the shower, especially in your shaving oil.
But aside from its infamous smell, peppermint oil is also ideal for those who are maintaining a beard as it promotes hair growth. Plus, its antibacterial and antifungal properties make it suitable for cleansing your face.
Although all of these are obviously beneficial to your skin and beard, we do not recommend that you directly apply them to your skin. Essential oils are too potent for you to use as-is. We advise that you diffuse it in a carrier oil, like castor oil, or in water before using it for shaving.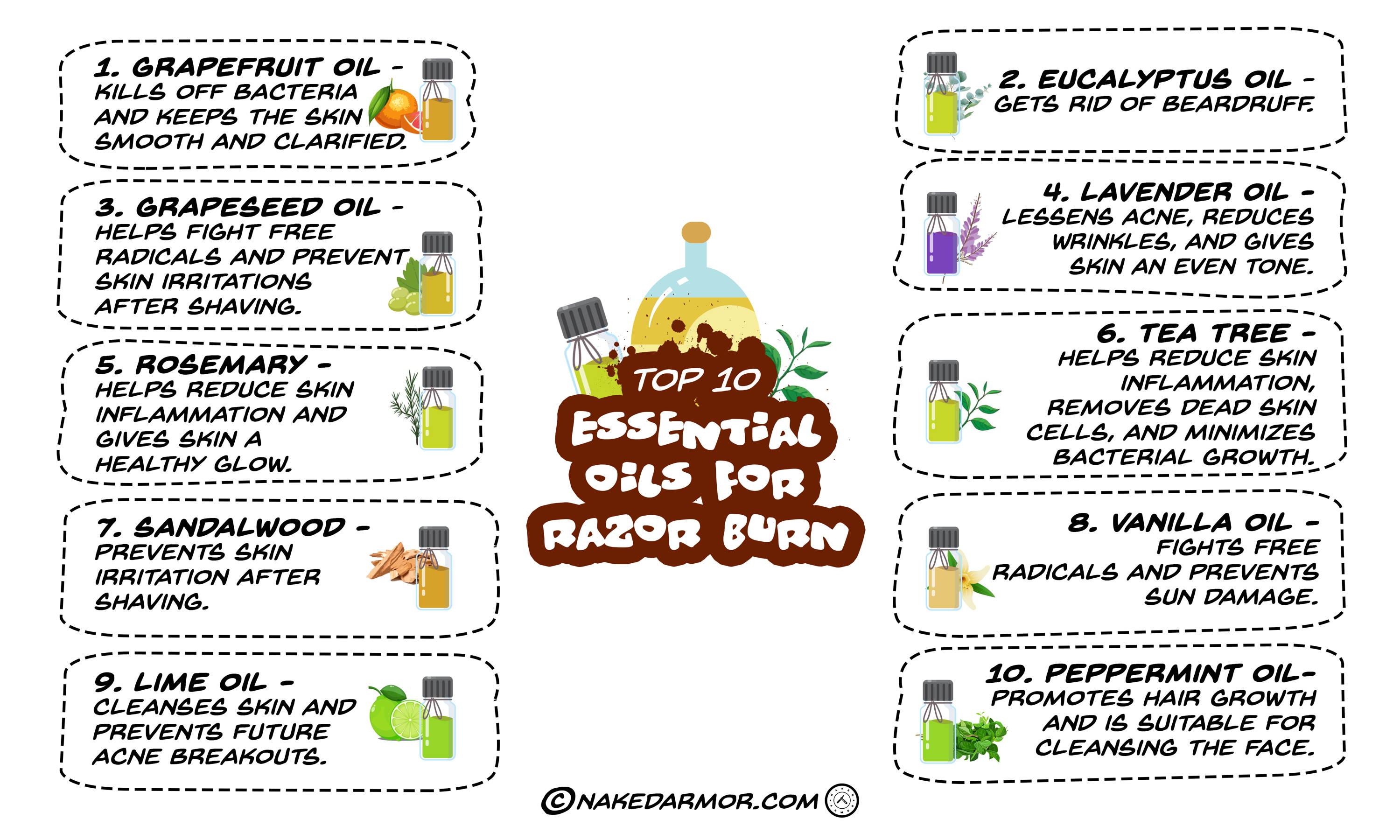 Create DIY Essential Oil For Shaving
If you have any of these oils at home, you can easily and quickly mix up your own essential oil for shaving to prevent razor burn. Here is our simple recipe you can try:
Ingredients
Materials

1 fl oz Olive oil
2.5-3 fl oz 100% Pure castor oil
5 drops Pure Vitamin E oil
15 drops of your chosen essential oil

Pipette - one for each oil
Amber glass bottle(s)
Procedures
1. Measure each ingredient and place it inside the amber glass bottle
2. Seal the bottle and swirl to mix everything inside.
As you can see, creating your own essential oil for razor burns and shaving is as easy as three steps: get the ingredients, measure, and mix! That is all there is to it, nothing but a quick and straightforward recipe.
Choose Your Shaving Products
Not everyone has immediate access to essential oils. If there is a local store near you selling these kinds of products, you will have no trouble getting the ingredients and making your own concoction at home.
On the other hand, there is a myriad of shaving products available on the market. But, when using shaving products, always use organically produced ones. The skin on your face is a delicate organ, so you need to expose it to nourishing and beneficial substances.
Here at Naked Armor, our shaving products use natural essential oils to help ease the shaving experience while making it a healthy experience for the skin. We produce them sustainably and organically to protect the environment.
We joined hands with our friends at The Beard Way to expertly and organically produce our Beard Hemp Oil. This shaving oil is infused with beard trifecta—hemp oil, argan oil, and jojoba oil. With skin-nurturing Vitamin E oil and 100% pure organic ginger and grapeseed oil for aroma, Naked Armor's Beard Hemp Oil is the ultimate shaving product you need to take care of your beard and skin.
We also have an Aftershave All-Purpose Organic Balm With Hemp Oil. It is imbued with more than ten essential oils and vitamins—all great for shaving—making it an all-in-one shaving product that will soothe and maintain the health of your skin, ensuring that it is ready for your next shave.
Essential oils are mostly used as a pre-shave product to create a barrier between the shaving foam or cream and your skin. It nourishes the skin and hair, making it a great aid in achieving a smoother and luxurious, barber-like shaving experience and preventing razor burns. But you can also apply it after shaving as aftercare to soothe the skin.
Check out our site if you are interested in giving your shave a healthy twist.
---
---
---
1 comment
---
---